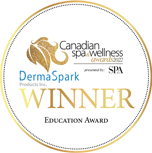 DermaSpark has won the Canadian Spa & Wellness Education Award
Xcellaris Pro – Professional Skin Care by Dermaroller®
Over time, the skin changes and becomes more demanding.
An effective skin care protocol must meet those demands – for healthy and beautiful skin at every age.
Our innovative complex of skin-boosting ingredients, with Matrixyl™ 3000 and Copper Tripeptide-1,
helps to nourish and protect the skin with proven and noticeable results.
Xcellaris Pro Product Line
XCellarisPRO – Professional Care
GET TO KNOW THE KEY INGREDIENTS HERE!